SESAMEⅡ-06d is dadicated to U-53, multiparameter water quality checker of HORIBA.
With only one probe, multiple items of water quality data, are automatically measured, recorded, and sent.
You can check the data by your PC, smartphone, and tablet anytime, anywhere.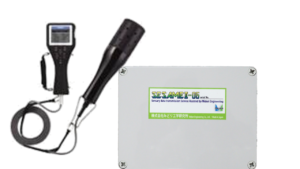 Main measuring items
Turbidity, water temperature, water depth, pH, ORP, dissolved oxygen, electric conductance.

Measurment
By using U-53, multiparameter water quality checker of HORIBA, multiple items of water quality data is measured and recorded simultaneously.
Since the power supply of it is solar panel and battery, you can set this at the place where doesn't have any power supply facilities.
You can customize the combination of the sensor. For example, you can use weather sensor and water quality sensor together.
Transmission
The data is stored on SD card of data logger, and is sent to cloud server through mobile phone network.
The measurement interval is up to 1 hour, and you can change it by each 1 minutes. The transmission interval is from 10 minutes up to 24 hours.
You can set alert email about all measuring items. The alert email is sent when the value is more/less than upper/lower limit you set.
Application
The data stored on server can be seen by dedicated web site.
We support the server maintenance and the procedure about mobile phone line, for monthly flat rate.
Examples of setting places and purposes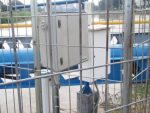 Continuing water quality check
Water pollution of rivers and lakes is a very serious problem for industrializing nations. This product checks the water quality of river connected to clean water.
Main device overview
Measuring items
pH, ORP, DO, electric conductance, salt content*, total amount of dissolved solids*, seawater specific gravity, water temperature, turbidity, water depth.
Mearurement interval
1 to 60 minutes, 1 minute increments
Data transmission interval
10・15・20・30 minutes
1・2・4・6・12・24 hours
Alarm setting item
All measuring items and battery voltage (upper/lower limit)
Internal memory
1 Mbit nonvolatile EEPROM (can record up to 3000 times)
Internal recording media
SD card (Up to 4 GB · Can be recorded for over 10 years)
External antenna
1 antenna for mobile phone line, 1antenna for GPS
Using bandwidth
GSM/GPRS・3G(W-CDMA)
Usable temperature
-5 ~ 45℃
Power supply
Solar cell (49 W) + deep cycle battery (12V · 20Ah) ×2
Power consumption
U-53: idle 60mAh, measuring 500mAh
Data logger: 4mAh
Data transmission: 600mAh
* These items are conveted values from electric conductance.
**

SIM card of NTT docomo affiliate is available.