SESAMEⅡ-05d is a compact intelligent weather real-time monitoring system dedicated to VAISALA WEATHER TRANSMITTER WXT 530 SERIES.
With your PC, smartphone, and tablet, you can check the newest field data anytime, anywhere.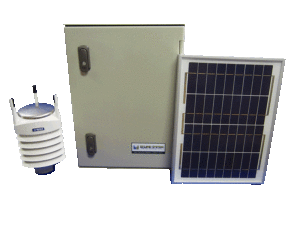 Main measuring items
Wind direction, wind speed, rainfall, temperature, relative humidity, air pressure, amount of insolation
Measurment
By using weather transmitter WXT 530 series by VAISALA, you can get multiple weather data such as temperaure, and rainfall.
Since the power supply of it is solar panel and battery, you can set this at the place where doesn't have any power supply facilities.
Transmission
The data is stored on SD card of data logger, and is sent to cloud server through mobile phone network.
The measurement interval is up to 1 hour, and you can change it by each 1 minutes. The transmission interval is from 10 minutes up to 24 hours.
You can set alert e-mail about all measuring items. The alert email is sent when the value is more/less than upper/lower limit you set.
Application
The data stored on server can be seen by dedicated web site.
We support the server maintenance and the procedure about mobile phone line, for monthly flat rate.
Examples of setting places and purposes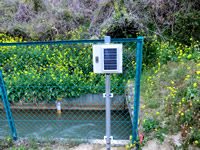 Drain, pond
Disaster prevention (Prevention of landslide disasters) / Agricultural damage prevention

By monitoring weather data especially rainfall, you can prepare to flood of river and pond.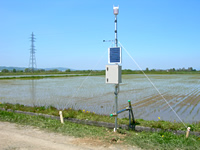 Paddy field, farm, PVC greenhouse
Measures against high temperature or hold damage / Agrigultural damage prevention

It helps you to prevent flood damage caused by heavy rains, and prevent grow insufficiency of crops caused by changes of temperature.
Since this system enables you to monitor from remote place, so you can minimize the number of times you go to see the situation directly.
And this system tells you when some parameter reached danger threshold, so you don't have to monitor it for 24 hours.
This system saves your time and helps you caution, so by outsourcing monitoring this system temporary to neighbor farmer, you can travel to somewhere.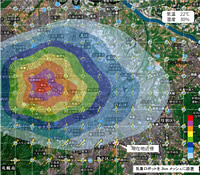 Rooftops of condominium and department store
Service of real-time weather information
The AMeDAS system of Japan Meteological Agency is only placed 1300 points, for each 17 kilometer squares.
So the system is hard to serve the real-time weather information, and to monitor current abnormal climate such as heavy rains, thunderbolt, and tornadoes occurred in local areas.
So placing system which is inexpensive and no special construction required is needed, like our SESAME system. By placing SESAME system for each 2 kilometer squares, you can receive more detailed weather information. This system not only helps to detect abnormal climate but also your commacial activity. For example, if you installed this system to taxies, the taxies can get passengers at suddenly rained areas quickly.

Our system serves you "information", not "forecast".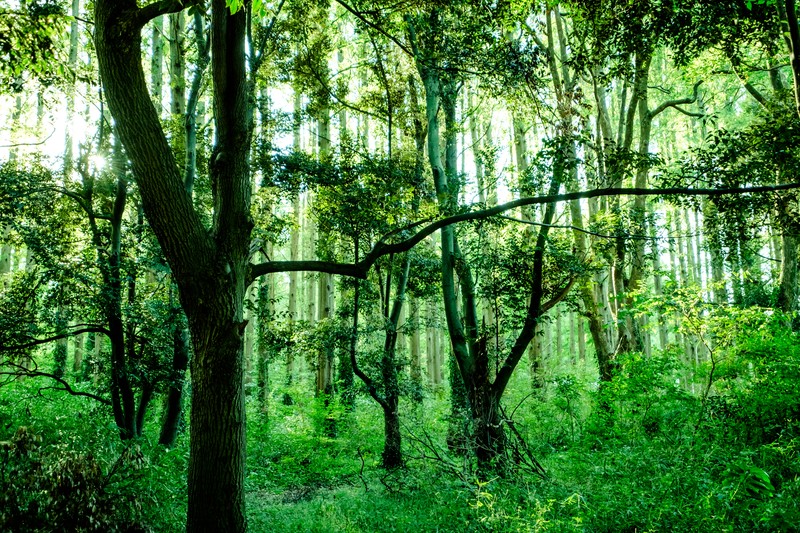 City areas, mountain village division, overseas (even in jungle outback)
Measures of environmental problems / Academic data collection
Customization of the items of obtaining data is feature of SESAME system. By obtaining information all together using SESAME system, you can refer them and find some relevance between them easily.
Basically no need for construction work for internet or power supply. This system is easily placed and serves you data automatically for each intervals you specified. So it is very helpul for the people who need the data, especially people who obtaining it is not their main job.
The measured data is stored in the data logger, so if something wrong with transmission, you can receive data after the recover of the situation.
Main device overview
Measuring items
Minimum wind direction / average wind direction / maximum wind direction (°)
Minimum wind speed / Average wind speed / Maximum wind speed (m / sec)

Air pressure (hPa)
Temperature (℃)
Humidity (%)
Cumulative rainfall / rainfall duration / current rain intensity (mm / sec / mm / h)
Hail amount / hail duration / current hail intensity (hits / cm 2 · h)
Rainfall Peak Intensity / Hailing Peak Strength (mm / h / hits / cm 2 · h)
Amount of solar radiation
Measurement interval
1 to 60 minutes, 1 minute increments
Data transmission time
10, 15, 20, 30 minutes. 1, 2, 4, 6, 12, 24 hours.
Alarm setting item
Maximum wind speed · Average wind speed · Time rain volume · Rain intensity · Air pressure · Temperature · Relative humidity · Snowfall intensity · Battery voltage (upper limit and lower limit)
Internal memory
1 Mbit nonvolatile EEPROM (can record up to 3000 times)
Internal recording media

SD card (Up to 4 GB · Can be recorded for over 10 years)
External
One for mobile phone line, another one for GPS
Using bandwidth

GSM/GPRS・3G(W-CDMA)
Usable temperature
-5~45℃
Power supply

Solar cell (10W) + deep cycle battery (12V · 7 to 9Ah)

Power consumption

WXT 520/530: 3mAh (typical value)
Data logger: 4mAh
Data transmission: 600mAh (2minutes / once)

Pyranometer PCM-01 overview
| | |
| --- | --- |
| Sensor type | Thermoelectric cone type |
| Wavelength range | 305~2800nm |
| Range | 0 to 40/400 mV (integrated value) |
| Sensitivity | 5~7mV/kW/㎡ |
| Cable length | 10m |
Weather robot [VAISALA WXT 530] technical data
Air pressure
Measurable range
600 ~ 1,100hPa
Accuracy
±0.5hPa (on 0~+30℃)
±1.0hPa (on -52~+60℃)
Resolution performance
0.1hPa, 10hPa, 0.001bar
0.1mmHg, 0.01inHg
Output unit
hPa, Pa, bar, mmHg, inHg
Relarive humidity

Measurable range
0 ~ 100%RH
Accuracy
±3%RH (on 0~90%RH)
±5%RH (on 90~100%RH)
Resolution performance
0.1%RH
PTU measurement interval
1 to 3,600 seconds (= 60 minutes), 1 second step
Temperature

Measurable range
-52 ~ +60℃
Accuracy
±0.3℃ (on +20℃)
Resolution performance
0.1℃
Output unit
℃
Precipitation

Rainfall (Accumulated rainfall after automatic or manual reset last)
Collection area
60cm²
Resolution performance
0.01mm(0.001in)
Accuracy of outdoor day cumulative quantity
0.01mm(0.001in)
Output unit
mm、in
Rainfall time (If raindrops are detected, it is measured every 10 seconds each.)
Resolution performance
10 seconds
Rainfall intensity  (This is 10 seconds step, 1 minute rainfall average.)
Measurable range
0 ~ 200mm/h (If the range is wide, the accuracy reduces.)
Output unit
mm/h、in/h
Hails (This is cumulative number of hits in hail collection area.)
Resolution performance
0.1hit/cm²、1hit/in²、1hit
Output unit
hits/cm²、hits/in²、hits
Hail time. If hails are detected, it is measured every 10 seconds each.
分解能
10秒
Hails strength (This is 10 seconds step, 1 minute rainfall average.)
Resolution performance
0.1hit/cm²h、1hit/in²h、1hit/h
Output unit
hits/cm²h、hits/in²h、hits/h
*By feature of this phenomenon, rainfall value will cause deflection caused by spatial difference, especially in short time measuring. The accuracy does not include eror caused by wind.
Wind

Wind speed

Measurable range
0 ~ 60m/s
Reaction time
0.25 sec
Output items
平均値、最大値、最小値
Resolution performance

±0.3m/s or ±0.3%. The bigger one is taken.(on 0~35m/s)

Resolution performance
0.1m/s(km/h、mph、knots)
Output unit
m/s、km/h、mph、knots
Wind direction
Measurable range
0 ~ 360°
Reaction time
0.25 sec
Output items
Average, maximum, minimum
Accuracy 
±3.0°
Resolution performance
1°
Measuring frame
Time of averaging

1 to 3,600 seconds (= 60 minutes), 1 second step.
Sampling is 4 Hz, 2 Hz, 1 Hz (setting is possible)

Update interval
1 to 3,600 seconds (= 60 minutes), 1 second step.